Welcome to The Biodiesel Club - Home Page
DONATE YOUR HOUSEHOLD USED COOKING OIL TO THE BIODIESEL CLUB AT ANY 
OF SLO COUNTY'S HOUSEHOLD HAZARDOUS WASTE DROP OFF SITES.  
Visit the San Luis Obispo County Integrated Waste Management Authority website for more details.
http://iwma.com/tabreshaz.html
_________________________________________________________________________________________
Information on how to earn a tax deduction by donating your commercial Waste Vegetable Oil .
Here: WVO Tax Flyer (PDF).
Winter 2014 Universal Access Grant Fundraising Campaign
Major Sponsors
WVO Donors
Our donors believe in sustainable biodiesel! Please support us by giving them your business.
Main Street Grill, 603 Main Street Cambria, CA

Jaffa Café, 1344 Park Street, Paso Robles, CA
Cafe Della Via, 155 North Ocean Ave., Cayucos, CA

Giovanni's Fish Market, 1001 Front Street, Morro Bay, CA

Chapala Mexican, 2816 Main St., Morro Bay, CA

Dorn's Original Breakers Cafe, 801 Market Ave.,Morro Bay, CA

LoLo's Mexican, 2848 Main St., Morro Bay, CA
The China Dragon, 2780 Main St., Morro Bay, CA
Pacific Auto Service, 1071 Los Osos Valley Road, Los Osos, CA
Morin Brothers Automotive, 4090 Broad Street, San Luis Obispo, CA
Taco Works, Inc., Sacramento Drive, San Luis Obispo, CA
Mama's Meatballs, 570 Higuera St. #130-135, San Luis Obispo, CA
Creeky Tiki,  782 Higuera, San Luis Obispo, CA
FireStone Grill, 1001 Higuera, San Luis Obispo, CA
Fattoush, 5 Santa Rosa St. , San Luis Obispo, CA
Jaffa Café, 1308 Monterey Street, San Luis Obispo, CA
Jaffa Café, 206 E. Branch Street, Arroyo Grande, CA
SLO Brew, 1119 Garden Street, San Luis Obispo, CA
Robins Restaurant, 4095 Burton Road, Cambria, CA
Mountain Valley Express, Santa Maria, CA
_____________________________________________________
Who Sells Sustainable Biodiesel?
People's Fuel
In San Luis Obispo County, residents can buy biodiesel in bulk from People's Fuel. Their fuel (B99) is 100% American-made high quality, sustainable biodiesel made from waste vegetable oil (wvo) and delivered by a licensed California supplier (San Francisco) in a vehicle running on biodiesel. All taxes are paid at the time of delivery, and the supplier is fully registered to deliver biodiesel to those able to store it.
http://www.peoplesfuel.org/storage.html
Yokayo BioFuels
Yokayo Biofuels is a biodiesel production and distribution company that has operated out of the Ukiah Valley in Northern California since 2001. They are committed to ecological, social, and economic sustainability.
Sacramento Biodiesel Network
They are the local provider for biodiesel in the Sacramento area. They have a website that provides more information regarding their unique buying club.
______________________________________________________
Hazards of exposure to diesel fuel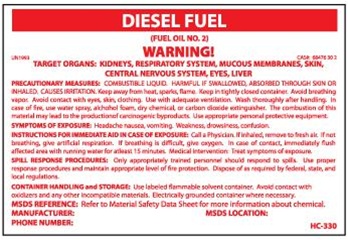 According to the EPA, "Air pollution from diesel engines, especially fine particles, can lead to serious health problems for adults. Children and elders are at even greater risk. Children are especially at risk from diesel emissions because their lungs are still developing and their faster breathing rate increases the amount of exhaust they inhale. Exposure to diesel exhaust has been linked with an increased risk of premature death, more hospital admissions for heart and lung disease and aggravation of health conditions such as asthma."
http://www.aft.org/pdfs/healthsafety/fs_diesel0804.pdf
http://www.epa.gov/region10/pdf/tribal/anv_diesel_072012.pdf
https://www.osha.gov/SLTC/dieselexhaust/
https://www.osha.gov/pls/oshaweb/owadisp.show_document?p_table=INTERPRETATIONS&p_id=19958
http://www.dailymail.co.uk/health/article-2158574/Diesel-engine-exhaust-fumes-major-cancer-risk.html
http://oehha.ca.gov/public_info/facts/pdf/fuels4-02.pdf
http://www3.imperial.ac.uk/newsandeventspggrp/imperialcollege/newssummary/news_7-12-2007-16-52-32
http://www.theguardian.com/environment/2007/jan/26/pollution.transportintheuk
Contact us by e-mail for more information on how to form your own AmbioClub Chapter.
The American Biodiesel Buyers Club, Corp.
aka The Biodiesel Club
259 Morro Bay Blvd., Morro Bay, CA 93442
Mailing Address: P.O. Box 716, Morro Bay, CA 93443